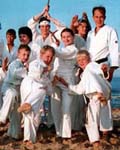 Firstly the Tomiki aikido sport club was housed in KSMU (Kursk State Medical University) where classes in competitive aikido were conducted on a regular basis for 7 years (July 2000 July 2007).
During this period 32 regional and 3 state competitions were held on the basis of KSMU. The KSMU aikido team was a constant participant of the annual Moscow competitions. All in all around 1500 people practiced aikido in that span in KSMU section. The coach of the section Aleksey Shchepikhin and his fellow practitioners Aleksandr Taran and Evgeny Kashirtsev paid a visit to Japan (Imabari) in 2004 where they had intensive training for a fortnight under the guidance of the best JAA instructors.
In March 2007 Japan made a reciprocal visit to Kursk. The delegation was represented by Shogo Yamaguchi (7 dan, JAA director), Sato Tadayuki (6 dan, Waseda University Tomiki Aikido instructor), Tanabe Shintare (3 dan) and Fuwa Hisauki (3 dan). Seminars and dan exams were held.
The 8th International Tomiki Aikido Tournament which took place in Kyoto, September 2009, was visited by 12 Kursk sportsmen. Presently the classes are conducted in the Youth School of Olympic Reserve (10A, Mirnaya str., Kursk).
Aleksey Shchepikhin, the student of Igor Dmitriev, now coaches here both youngsters and adults who often are parents and children so its a family sport.
During summer time the annual seaside seminars are held at the Azov and Black Seas. (see photos).