Instructors - Aleksandr Taran (3 dan JAA, Kursk)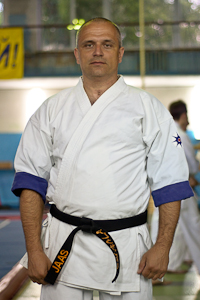 Date of birth: 11 September 1968
A graduate of Kharkov Aviational Institute and Kharkov Engineer Economical Institute.
Works as a director of "Agrotrade" Ltd., Kursk.
1996 - began practicing aikido in I. Dmitrievs section.
2000 - passed the 1 dan exam JAA (examiner - Kenshi Uno, 8 dan)
2002 - passed the 2 dan exam JAA in Kharkov (examiner - Kenshi Uno, 8 dan)
2004 visited Imabari, Japan where passed the 3 dan exam JAA (examination board Kenshi Uno, 8 dan; Sato Tadayuki, 5 dan; Yasuo Noma, 6 dan; Satoshi Ozawa, 5 dan)
A regular participant of Tomiki aikido seminars and championships.