Instructors - Pavel Kochetov (2 dan JAA, Kursk)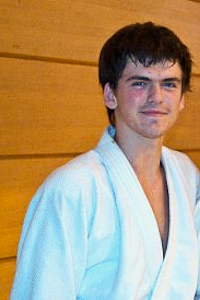 Date of birth: 08 May 1991
Student of Moscow Engineering Physics Institute (National Research Nuclear University) NRNU MEPhI.
2007 - began to practice Tomiki aikido.
2008 - passed the 1 dan exam JAA (examiner Kenshi Uno, 8 dan).
2009 - passed the 2 dan exam JAA (examiner Sato Tadayuki, 6 dan).
The winner of many different competitions of municipal, regional and state levels.
September 2009 participated in the 8th International Tomiki Aikido Tournament in Kyoto.
September 2010 – became the prize-winner of the Second ETAN European Club Championship in Ceske Budejovice (Czech Republic) (1 gold and 2 silver medals)
September 2010 – Tomiki Aikido instructor in NRNU MEPhI.
2011 — a participant of the 9th International Tomiki Aikido tournament (London).
2012 – became a winner in "Koruy Dai San no kata" and "Ninin Dori" categories at the 3rd European Tomiki Aikido club championship (Moscow), also got the 3rd place in "Men's Individual Tanto Randori" category.