Instructors - Evgeny Kashirtsev (3 dan JAA, Kursk)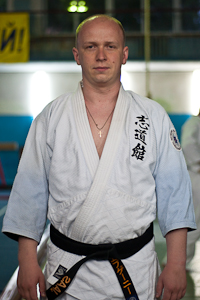 Date of birth: 20 June 1981
Graduated from the All-Russia Part-time Institute of Economics and Finance, department of management.
2001 - began to practice Tomiki aikido.
2004 - visited Japan (Imabari) and passed the 1 dan exam JAA (examination board Kenshi Uno, 8 dan; Sato Tadayuki, 5 dan; Yasuo Noma, 6 dan; Satoshi Ozawa, 5 dan).
2007 - passed the 2 dan exam JAA (examiners Sato Tadayuki, 6 dan; Shogo Yamaguchi, 7 dan).
2008 - passed the 3 dan exam JAA (examiner Kenshi Uno, 8 dan)
The winner of many different competitions of municipal, regional and state levels.
September 2010 – became the prize-winner of the Second ETAN European Club Championship in Ceske Budejovice (Czech Republic) (silver medal)