Instructors - Sergey Shumakov (3 dan JAA, Kursk)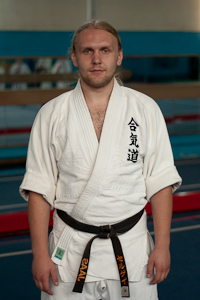 Date of birth: 10 October 1989
Student of Kursk State University, department of computer science.
September 2010 – a student of Kursk state university, faculty – Physical culture and Sports.
2001 - began to practice Tomiki aikido.
2005 - passed the 1 dan exam JAA.
2007 - passed the 2 dan exam JAA (examiners Sato Tadayuki, 6 dan; Shogo Yamaguchi, 7 dan).
2008 - passed the 3 dan exam JAA (examiner Kenshi Uno, 8 dan).
The winner of many different competitions of municipal, regional and state levels.
September 2009 - participated in the 8th International Tomiki Aikido Tournament in Kyoto and had the highest score in tanto randori section among the Russian team members.
September 2010 – became the prize-winner of the Second ETAN European Club Championship in Ceske Budejovice (Czech Republic) (1 silver and 2 bronze medals)
2012 – became a winner of the 3rd European Tomiki Aikido club championship (Moscow), in the next categories:
"Men's Individual Tanto Randori"
"Men's Team Tanto Randori"
"Kihon Waza – dan"
"Ninin Dori"
Also got the 3rd place in "Koruy Dai San no kata".